Welcome to our Church!
Hayward Seventh-day Adventist Church
26400 Gading Road
Hayward, CA 94544 510.782.3422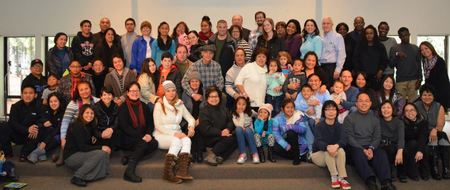 In this photo: Some of our church family at our annual Church Family Retreat (Jan. 2016)

Welcome to our church family!
As a Christian church, we are a multi-cultural, faith community rooted in the beliefs described by the Holy Scriptures.
We are located in Hayward, California, across the bay from San Francisco.
Visit us soon and be sure to stay for our delicious, vegetarian fellowship meal following the worship service.
We would be pleased to have you join our church family!
*** Click on the "Visitors" button on the Main Menu to learn more about us ***
(Click here for photos of our church)

Sundays

09:30 - 10:30am

Adventist Community Services



Mondays:
Tuesdays:

Wednesdays:

09:30 - 10:30am

Adventist Community Services (with the Alameda County Food Bank)


07:00 - 08:00pm

Mid-week Prayer Meetings

Thursdays:

07:30 - 09:00pm

Church Board Meeting (fourth Thursday)

08:00 - 09:00pm

Online Bible Study: "What the Bible Says About ...

"

Fridays:

07:15 - 08:15pm

Friday Night Vespers Service

Saturdays:
09:15 - 10:30am

Sabbath School for Adults and Children
10:45am
Announcements and Worship Service


12:30pm

Fellowship meal for visitors and guests (Potluck for ALL on the second Saturday)


02:00pm

Family Naure Walk (third Saturday if no rain)

-- On Hiatus




02:00pm

Redwood Convalescent Home Ministry (fourth Saturday)


04:00pm

Adventist Youth (AY) Society Vespers (second Saturday)

04:00pm

Active Adventist Adults Program

(last Saturday)